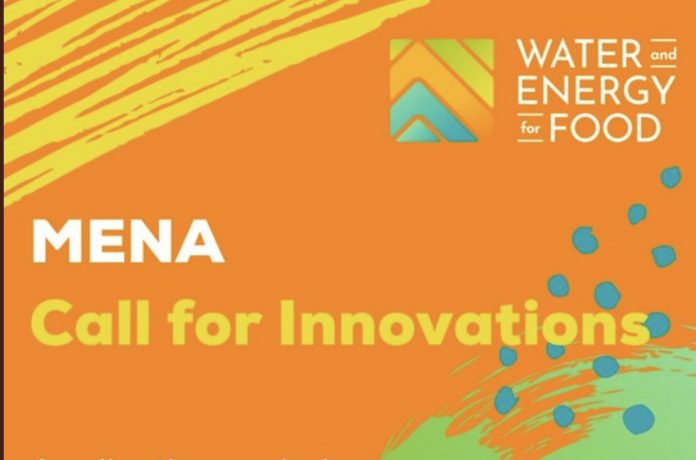 Application Deadline: November 25th, 2021
The MENA Regional Innovation Hub is proud to announce the second Call for Innovations. The MENA RIH supports innovative companies and organizations that work in the Middle East and North Africa and produce more food while using less water and energy. Together with investors and partners, the MENA RIH works to scale mid-to-later stage enterprises that have an environmental and social impact in the water-energy-food nexus.
Through WE4F, innovators from the MENA region can access financial support of up to USD $300.000 per innovation, technical support, and investment matching necessary to make food production and farming more sustainable, productive, and bountiful.
Requirements
WE4F is looking for mid- to late-stage enterprises, nonprofits with a for-profit program, and other organizations based in the Middle East and North Africa, who have innovative water-food, energy-food, and water-energy-food solutions. Applicants must meet the minimum requirements outlined below to participate in this call for innovation.
Women-owned and women-led organizations are encouraged to apply.
How to Apply
Review the solicitation document.
Review the eligibility criteria.
Create an account on SMApply.
Review the complete list of application questions. All applications must be submitted via the application portal. Submissions via email or any other medium will not be accepted.
Applicants can save their progress on the application form by clicking on the "Save & continue editing" icon at the bottom of the application. Please note that the application must be submitted before the deadline.
All questions marked with * are mandatory, please ensure you fill them before submitting the application.
The deadline for submission is November 25, 2021 at 5:00 PM CET; however, we STRONGLY suggest not waiting until the last day to tackle your application.
In case you have any questions about the application or are facing any technical challenges with the application portal, please contact us at [email protected] Content-related questions can be submitted until November 1.
APPLICATION PROCESS AND TIMELINE
| | |
| --- | --- |
| October 14, 2021 | Application Launch |
| October 14, 2021 at 4:00 (EN) & 5:00 (AR) PM CET | Launch webinar for concept note applicants |
| October 27, 2021 at 4:00 PM CET | Eligibility & process webinar for concept note applicants |
| November 1, 2021 | Deadline for submitting written questions to [email protected] |
| November 4, 2021 at 4:00 PM CET | Q&A webinar for concept note applicants |
| November 25, 2021 at 5:00 PM CET | Deadline for submitting applications |
| Early December 2021 | Top applications are notified to proceed to full proposal stage |
| December 20, 2021 at 4:00 PM CET | Q&A webinar for full-proposal applicants |
| January 16, 2021,at 5:00 PM CET | Full-proposal application closed |
| Late January 2022 | Applications evaluated and scored against set criteria |
| Early February 2022 | Interview and pitch to expert panel |
| February – March 2022 | Cohort approval and awardees bootcamp |
| February – March 2022 | Completion of required documents and approval by Secretariat and Steering Committee |
| Mid-April 2022 | Awards made to top applicants |
APPLICATION RESOURCES
For More Information:
Visit the Official Webpage of the Water and Energy for Food 2021 MENA Regional Call
Comments