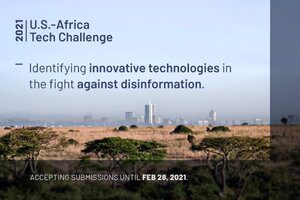 Application Deadline: February 28, 2021.
Disinformation and propaganda pose a threat to trust, cohesion, and security. We need the tools to understand, expose, and counter these threats.
The U.S. – Africa Tech Challenge invites technologists from across Africa to submit an application to present their solution against disinformation and propaganda to an audience of government, civil society, and private sector stakeholders. Up to eight organizations will be chosen to demo their technology. Up to three organizations will be selected as winners of the Challenge and will receive funding totaling $250,000 USD.
The U.S. – Africa Tech Challenge is sponsored by the U.S. State Department's Global Engagement Center, in partnership with U.S. Embassy Nairobi, the European Union, the Intergovernmental Authority on Development, Twitter, Park Advisors, and Informa. More partners and sponsors will be announced shortly.It is being held as a two-part virtual event.
Part II will take place on the margins of East Africa Com on 11-12 May 2021, one of the premier events for digital communications, and will provide participants an opportunity for virtual networking and partnership-building. East Africa Com is part of the Connecting Africa series with AfricaCom.
The U.S. – Africa Tech Challenge aims to advance the development of promising and innovative technologies against disinformation and propaganda across Africa. As such, only submissions from companies domiciled and headquartered in Africa will be considered.
The application period is now open and will close on February 28, 2021. Please email [email protected] for details on eligibility and application instructions.
For More Information:
Visit the Official Webpage of the  U.S. – Africa Tech Challenge 2021

Comments