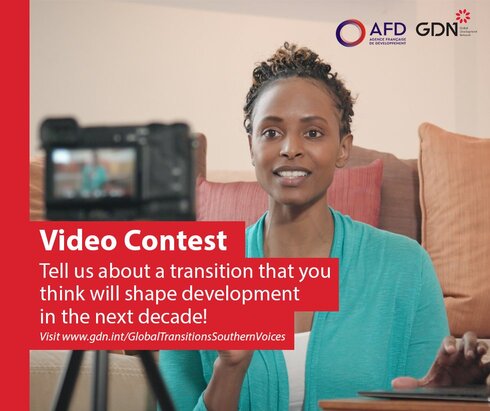 Application Deadline: July 4th 2021
The Global Development Network is partnering with the French Development Agency, AFD, to conduct an online video contest, on key development transitions taking place across the globe. The videos will tell the story of these transitions through the eyes of young researchers working in the Global South – enabling global audiences to learn about their challenges and successes. The videos will link deep local knowledge and perspectives to the public discourse on global development through a variety of subjects such as climate, energy, gender, governance and more.
Global Transitions, Southern Voices 
More scientific evidence is available today on the boundaries of our planet, natural and social, than ever before. Yet, steering change in the right direction – locally, regionally and globally – remains a major challenge. Scientific evidence remains hard to grasp. It struggles to find its way into public and policy debates. The public understanding of the broad development transitions we are living through at the planetary level remains limited. Efforts to revert this trend, bringing development transitions back into the public discussion, are essential to shaping our collective present and our future.
Benefits
Through a two-step competitive selection, the contest will shortlist up to 20 videos. Shortlisted applicants will receive structured feedback and support (from both communications experts and research staff) before they are invited to re-work and submit a final and longer version of their video.
All shortlisted participants who go through the revision and resubmission will compete for monetary prizes worth EUR 6,000.
A Jury of senior academics co-chaired by Thomas Mélonio (Executive Director of Innovation, Research, and Knowledge, French Development Agency) and Pierre Jacquet (President, Global Development Network) will assign prizes to the 3 top videos. Both winners and finalists will have a chance to take part in further audio-video productions by AFD and by GDN, with the potential of gaining global visibility.
For More Information:
Visit the Official Webpage of the GDN/AFD online video contest 2021

Comments